Este post fue publicado originalmente el 8 de febrero de 2011 en Zelma's Workshop
This week I tackled lil man's study area. Yes, his desk is pretty clear, but that's because he does his homework there. But the ottoman is a different story. Every time lil man leaves something on top of this desk, I move it to the ottoman to make room for him to work, and guess what? It piles up pretty quickly!
Ottoman before
Yesterday, lil man was having his speech therapy here, so I decided to clean up. I might be messy, but I'm not letting other people see it, no way!
Ottoman after
Amazingly enough, it wasn't that hard to put everything in its place. If only I did it every time, and not wait until everything is piled up. But then I wouldn't have anything to post here, wouldn't I? :)
Happy tackling!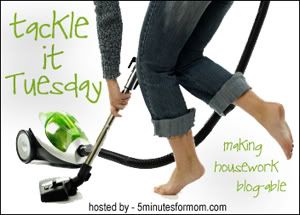 Thanks to the ladies at
5 Minutes for Mom
for creating Tackle it Tuesday!