Este post se publicó originalmente el 17 de agosto de 2010 en Zelma's Workshop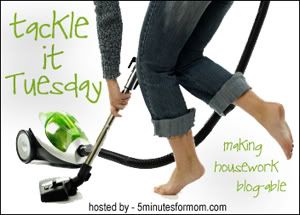 I have enjoyed and admired the "Tackle it Tuesday" series by
5 Minutes for Mom
for some time now - I mean, who would be bold enough to dare show everyone their messy lives and their piles of clutter? But when I read the story behind it (you can read about it
here
), I jumped on board immediately!
Only a handful of unfortunate people really know how incredibly messy I am, but if it will help me get my life - and my house - in order, then bring it! I think it's safe to assume the hubby will be very happy about this.
This week I will start with an easy one: Back to School. Lil man started Pre-K this week and for the first time he had a big-boy bag and lunchbox, and tons of books and notebooks. Since last year all his gear and materials had his name scribbled on a Sharpie - very sloppy - I decided to plan ahead this year, and purchased a combo pack from Mabel's Labels. Can you say adorable?
OK, full disclosure time: this is NOT a sponsored product review. Mabel's Labels did not ask me to write this post, nor did they give me the labels. I paid for them myself, and liked them so much I decided to share it with you. I do participate in their affiliate program, which I joined after trying out the labels. That is all.
Now that we've taken care of that, I can go back to gushing about the awesomeness of these labels. I mean, sticky labels that are microwave AND dishwasher safe? Clothes labels that are machine-washable? Nah, they must be joking!
Well, take a look at these pics and tell me they don't look gorgeous! It definitely made preparing for back to school enjoyable instead of dreadful. Thanks ladies!
There are several sheets per type of label. Plus 2 bag tags, fab!
Shoe labels: these are my fave - genius!
Tag Mates for clothes: yet another genius idea!
Sticky labels and bag tags, so friggin cute!
And now lil man is ready for school, and very excited!
Thanks to the ladies at
Mabel's Labels
for creating such great products!